Heading West is a critical accolade as much as a travel book or synopsis of an upcoming film, in which I question our fascination with the American West and its clichés. It is the result of work done during an artist residency in Sedona, Arizona during the summer of 2017.
On previous travels, I had already had the opportunity to confront the landscapes of the Great American West, and to experience the strange feeling of entering head-on into THE cinematographic fiction. A feeling that is not reserved to this part of the United States but acts with even greater force in the enormous dimensions of this particular environment.
Since there is, of course, no American fiction in and of itself, but only what comes to us through film and books, it is a very personal American fiction, and in the end very French, which I sought to describe in this book; fifty photographs and several texts interact in a circular manner, so as to circumscribe this mental and physical geography.
Book limited to 100 copies, excluding trade.
Exceptional subscription offer 80 € (after 14 May 120 €)
Each book (print 100 copies) is accompanied by a photographic print numbered and signed by Frédéric Ramade.
* Choice possible between twelve photographs, format 18 x 24 cm.
Photo #1

Photo #2

Photo #3

Photo #4

Photo #5

Photo #6

Photo #7

Photo #8

Photo #9

Photo #10

Photo #11

Photo #12
Auteur, Cinéaste, Photographe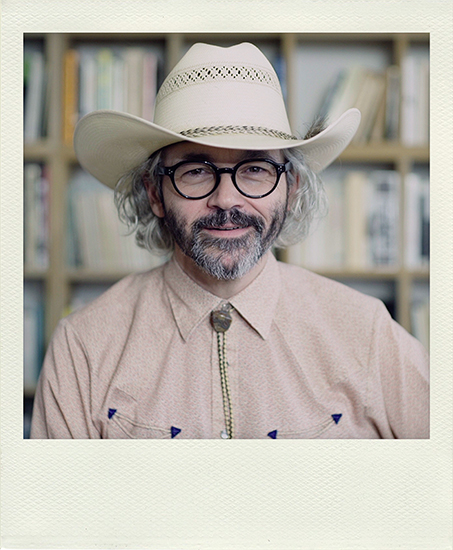 After beginning in the field of visual arts, where he explored different media: painting, photography, video, performance and installations, Frédéric Ramade turned to filmmaking.
His films, a mix of documentary and fiction, question – with humor – the notion of identity, its relation to our environment, the beliefs and stereotypes that are attached to it. Whether in the world of the suburbs in Ode Pavillonnaire (2008), which led to the publication of a book-dvd (Editions Filigranes); that of history and its setting in fiction in La Libération de Chinon  (2010); or even our need for exotic belief in La Voie Rouge (2015), Ramade evokes a singular point of view in which laughter accompanies a critical will whose political significance is always present.
Although film is his main medium of expression, Frédéric Ramade continues to draw and make photographs. His work advances through the interaction between one practice and another. Drawings and photographs come into play in film projects which, in return, lead him to explore filmically new plastic paths and new territories.