In Turkey,

the cardinal points

are indicated by

colors:

Ak

, white

for the South

Kara

, black for

the north.

Thus,

the Mediterranean Sea,

White Sea

,

turns into

Black Sea

at the

Bosphorus Strait.

And

it is precisely

here that

Philippe

Guionie

chosen

as a starting point

for

Swimming in the

Black

Sea

.
Conducted between
2004 and 2012
, the series
was inspired by
Kéraban
-le-
Stubborn,
a
Jules Verne novel
recounting the
tribulations
of a wealthy
Turkish
merchant,
Kéraban
refuses to pay
a tax imposed
by the sultan
unexpectedly
to cross the
Bosphorus and
Constantinople
decided to join
by going around
the Black Sea
.
This
romantic story
is
an underlying theme in
this
contemporary take on
the Black Sea.
Photographer
gradually
detaches
to form
a subjective
visual poem
with bright colors
.
From the nearby
Mediterranean,
pierce
the sweet life
and
the
southern accents
,
but this "
wandering
around a
sea
that is
hardly
seen"
is
so subtle that it
is equally at
history
with a capital H
the
more contemporary
events.
The photographs
in Georgia
were conducted in
2012 as part
of a photographic
residence
established by
the
Tbilisi
Photo
Festival.



Published in

collaboration with the

Polka

Gallery

(

Paris)
Collection
Hors Collection
Anglais/Français
Relié couverture cartonnée
51 photos colors
64 pages
ISBN : 978-2-35046-328-5
Press review
30 head editions accompanied by a drawing, 16 x 16 cm, photo (optional) shot each in 10 copies, signed by Philippe Guionie.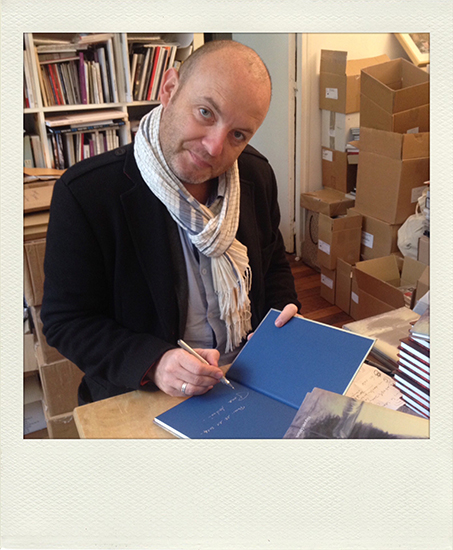 A historian by training, Philippe Guionie claims a documentary photography around the themes of memory and identity constructions. His photographic premise: put faces on human memories that do not.
Author of several books – "Former African fighters," "A Little Piece of Heaven" (The Imaginayres / diaphanous, 2006), "Africa America" ​​(diaphanous, 2006) & "Swimming in the black sea" (Watermark Publishing, 2014) – personal topics are presented in galleries and festivals in France and abroad. Winner of several photographic awards including the Roger Price Pic 2008 for the series "the rifleman and the three rivers", he is responsible semiotics courses of the image of photography and multimedia training school (ETAP) to Toulouse and manages numerous workshops in France (Rencontres d'Arles) and abroad. Myop member of the agency since 2009, Philippe Guionie is represented by the Polka gallery in Paris. In 2015, he curated the exhibition "Koudjina in legacies" to Encounters African Photography in Bamako and director of residence 1 + 2 in Toulouse linked to two other European cities (1plus2.fr).
Andreï Kourkov est né en Russie en 1961 et vit à Kiev. Il est aujourd'hui un écrivain ukrainien de langue russe. Très doué pour les langues (il en parle sept), il débute sa carrière littéraire pendant son service militaire alors qu'il est gardien de prison à Odessa… Son premier roman, Le Pingouin, remporte un succès international. Son œuvre est aujourd'hui traduite en 36 langues.