"I photographed the back of people facing the sea You can not see their faces;. It is clear, however, their clothes, the details of their outfits You can not see their eyes, but they are glued to guess. the horizon which precedes absorbed by the marine scope.
In Casablanca, between the Grand Mosque and the lighthouse of El Hank, there's a no man's land that rough cement barrier separates the sea here in summer and winter, bedaouis. – Women, children, youth workers, couples, older people – just watch the ocean. That's what people here call el bahr, "sea" or "beach" (in Arabic, the two semantic fields merge). Funny beach, so different from those of the Corniche, further, with their open-air pools and improvised soccer fields; if different also the beaches along our coastline, dotted with chairs and colorful umbrellas. Here, we do not come to swim or to sunbathe, but to retire some time in an intimate space, that of memory, love, sorrow, hope."
Marco Barbon
Coproducer
Soutien Conseil Général des Bouches-du-Rhône
Collection
Hors Collection
Français
Broché avec rabats
19 photos colors
48 pages
ISBN : 978-2-35046-409-1
Press review
He was shot this book a fifteen copies of head edition, accompanied by a numbered original print, signed, in the format of 21 x 28 cm.
Photo #1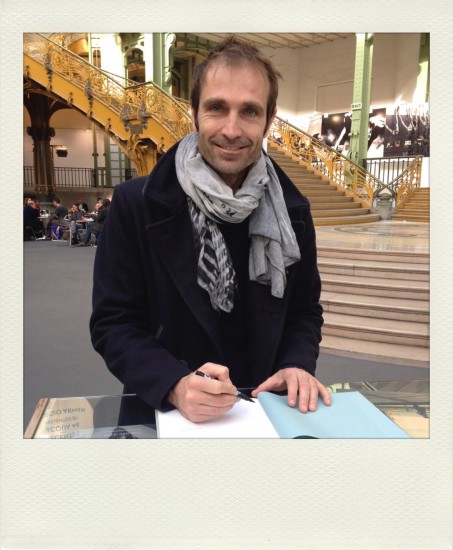 Marco Barbon was born in Italy and lives in France, between Paris and Marseille.
After a PhD in Aesthetics of Photography at EHESS in Paris, he began a personal artistic research, which emerge his two favorite issues: firstly temporality, on the other this border area between reality and fiction the photographic medium, both documentary and fictional tool device is particularly suitable for return.
Author of Asmara Dream books (Filigranes, 2009, reprinted in 2016), Cronotopie (Trans Photographic Press, 2010), Casablanca (Filigranes, 2011), Les pas perdus (Pursuit, 2014), Asmara (Be-Poles, 2014) and El Bahr (Filigranes, 2016), his photographs have been the subject of several publications in the international press and are regularly exhibited in France and abroad.
Professeur de philosophie, Denis de Casabianca enseigne en CPGE à Marseille. Il poursuit des recherches sur Montesquieu et sur l'histoire des sciences, des arts et des idées politiques au XVIIIe siècle. Il s'efforce aussi de paresser par essais avec l'idée que pour voir autrement le monde dans lequel nous vivons et le transformer, il faut aussi mener des révolutions intérieures, et qu'en ce sens ce qui se joue au plus intime de nous-mêmes n'est pas sans rapport avec les changements sociaux qui affectent nos modes de vie ordinaires et l'état de notre terre. On trouvera des traces de ces réflexions dans Un petit manuel de l'apprenti paresseux, consultable sur le site : la-paresse.fr