Ce livre d'artiste rassemble des photographies et des écrits de Corinne Mercadier. Il se présente dans un espace ordonné par le temps, comme tout journal, et parcourt un peu plus d'une année. Les événements au fil des jours se mêlent aux rêveries obstinées, aux regards portés autour de soi ou vers le passé, et aux projets qui font la matière du travail en train de se construire. Deux séries de photographies se croisent, Intérieurs et Glasstypes. Les lieux vides des premières et les objets étranges isolés dans les secondes montrent deux faces d'une même recherche de la lumière. Et une approche double de la réalité, écran changeant sur lequel se fixent images du monde visible et images d'un monde intérieur.
Collection
Hors Collection
Broché
14 photographies en couleur et écrits de l'auteur imprimés sur un papier bible.
60 pages
ISBN : 978-2-9106826-520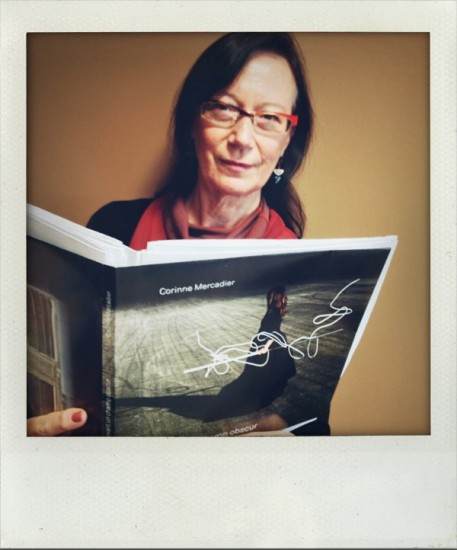 Lives and works in Paris.
Represented by the Gallery Les filles du calvaire in Paris. She has regularly exhibited since 1998 at the Galerie Les filles du calvaire, Paris, and at the Galerie Alan Klotz in New York in 2006 and 2008.
In 2001 she was awarded the Altadis Prize. In 2003, she obtained an order from the Reattu Museum and the Ministry of Culture, where she realized La Suite d'Arles, exhibited during the International Meeting of Photography. In 2013 she was a finalist in the Marc Ladreit Academy of Fine Arts Prize at La Charrière.


It is present in the collections of La Maison Européenne de la Photographie, FNAC, and the National Library, the Polaroid Collection.

She published most of her books at Filigranes Editions, Où commence le ciel ?, Dreaming Journal, La Suite d'Arles, une monographie en 2007, and Devant un champ obscur, in 2012.