"The first series juxtaposes the universe Hyper framed, haunting, full of kitsch and hypermarkets, modern temples dedicated to consumption, body of Levites and floating freely in space. As in his previous book The fall, the author focuses on areas of tension between social conformism, trademarks, standardization on the one hand, desiring power and freedom of the individual on the other. The universe of science fiction and the virtual game is not foreign to the aesthetic movement. Fantasy, humor and burlesque are obviously not absent from such tables. Doe flies over the flowery wallpaper, another fleet radius frozen asleep at …
The second set is related to Helmets amazing motorcycle helmets worn by teenagers, used in rural areas to move into two-wheeler. Referring monsters of cinema fantastique, the universe of Star Wars or giant insects, these individuals pose to the walls of their homes, in the quiet serene poses of photo or classic portraits."
Virginie Chardin
Coproducer
Château d'Eau Toulouse - Galerie VU
Collection
Hors Collection
Anglais/Français
Relié couverture cartonnée
31 color photos
56 pages
ISBN : 978-2-35046-163-2
Press review
This book has been printed 35 numbered copies of headache accompanied by an original print *, numbered and signed by Denis Darzacq.
The set is presented in a plexiglass case.
Photo #1

Photo #2

Photo #3

Photo #4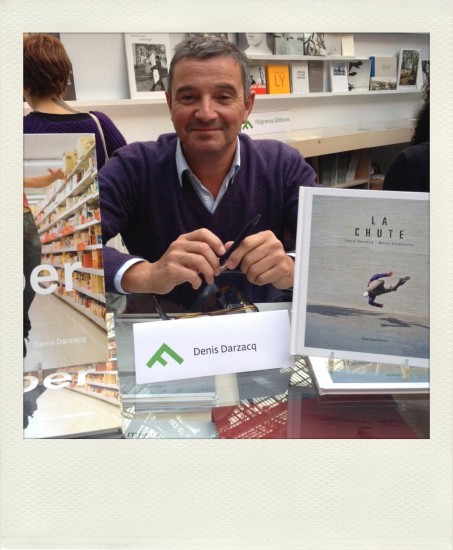 A graduate of the National School of Decorative Arts, Denis Darzacq made his debut in the 1980s in contact with the French rock scene and movie sets, while regularly working with headlines in the French press.
The success in 1994 of a series of photographs called Only Heaven – a walk in the world of the night – allows him to embark on more personal work.
He joined the VU agency in 1997 and now destined most of its production to art exhibitions and publications.
His fascination with the staging of real characters in everyday environments, Denis Darzacq draws several series of photographs that quickly made its reputation.
Among them, a spectacular work entitled La chute is awarded the first prize in the World Press Photo in 2007 in the Arts and Entertainment category.
In 2011, he began working with people with disabilities who will give birth to Act series, published by Actes Sud and crowned the following year by the Niépce Prize.
Sa recherche se concentre sur la représentation et la théorisation de l'espace ainsi que sur le mouvement dans l'autobiographie contemporaine, la fiction et les arts plastiques en France. Sa recherche est interdisciplinaire et embrasse des approches théoriques à l'espace des domaines de géographie humaine, à l'architecture et à la sociologie.