The series "La chute" features the bodies of dancers in weightlessness Hip Hop Capoeira and contemporary dance. A "fall of the angel of the 2000s, all tension and energy, between heaven and earth. "Just after the crisis of the suburbs in 2005 between gravity and seriousness, I made some photographs suspended in a generic architecture and popular. I like that in the era of Photoshop, photography and can still surprise witness moments that really existed, without tricks or manipulations, "explains Denis Darzacq. …) In cities of a popular and urban Paris, he created images of baroque body in zero gravity, levitate. Propulsion. Loss severity. Energy. Thrust. Toggles perspective. And a question: what happens to this energy? What about those who want to enter the body in which I might crash to the ground if ignored, if allowed to fall.
_
This title is out of print and we have very few copies of this book which explains the price of 150 €
_
Collection
Hors Collection
Anglais/Français
Relié couverture cartonnée
28 color photos
48 pages
ISBN : 978-2-35046-092-5
Press review
This book has been printed thirty copies numbered head, 1/30, accompanied by an original print * format of the book, numbered and signed by Denis Darzacq.
The set is presented in a plexiglass case.

* Three different photographs from each in 10 copies.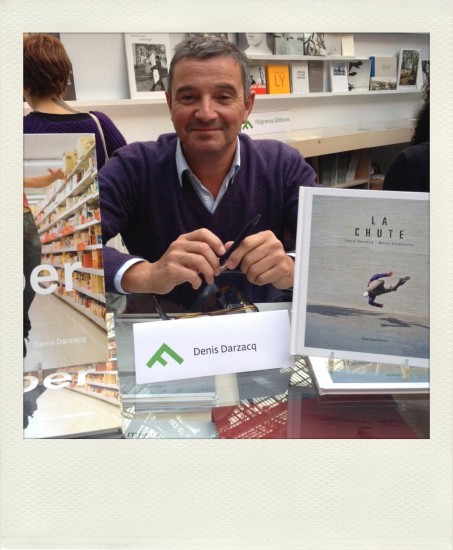 A graduate of the National School of Decorative Arts, Denis Darzacq made his debut in the 1980s in contact with the French rock scene and movie sets, while regularly working with headlines in the French press.
The success in 1994 of a series of photographs called Only Heaven – a walk in the world of the night – allows him to embark on more personal work.
He joined the VU agency in 1997 and now destined most of its production to art exhibitions and publications.
His fascination with the staging of real characters in everyday environments, Denis Darzacq draws several series of photographs that quickly made its reputation.
Among them, a spectacular work entitled La chute is awarded the first prize in the World Press Photo in 2007 in the Arts and Entertainment category.
In 2011, he began working with people with disabilities who will give birth to Act series, published by Actes Sud and crowned the following year by the Niépce Prize.