La Chute makes the connection between photojournalism and Denis Darzacq's artistic search crystal-clear. Inspired by a press report on hip-hop dancers, the series captures young dancers during leaps and jumps, with no recourse to any digital manipulation. Their bodies impose their en¬ergy, their lightness and their inventiveness on the dense geometry of the city space they invade. Darzacq borrows street culture's very forms of expression and uses them as a tool for freedom. In a daring leap, youth fleetingly tears itself free of the weight of society. La Chute won 1st prize in the Arts and Entertainment category of the World Press Photo 2007 awards.
Collection
Hors Collection
Anglais/Français
Relié couverture cartonnée
35 photos colors
68 pages
ISBN : 978-2-35046-278-3
Press review
He was shot 30 copies of this book in book format, presented in plexiglass box, accompanied by an original print signed.
Three different photographs from each of 10 copies, numbered 1 to 10.
Photo #1

Photo #2

Photo #3

Photo #4

Photo #5

Photo #6

Photo #7

Photo #8

Photo #9

Photo #10

Photo #11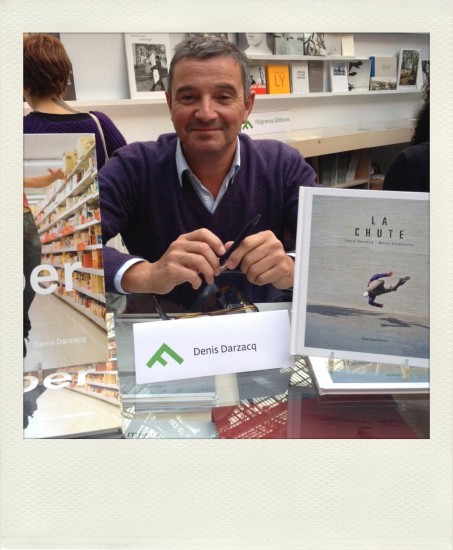 A graduate of the National School of Decorative Arts, Denis Darzacq made his debut in the 1980s in contact with the French rock scene and movie sets, while regularly working with headlines in the French press.
The success in 1994 of a series of photographs called Only Heaven – a walk in the world of the night – allows him to embark on more personal work.
He joined the VU agency in 1997 and now destined most of its production to art exhibitions and publications.
His fascination with the staging of real characters in everyday environments, Denis Darzacq draws several series of photographs that quickly made its reputation.
Among them, a spectacular work entitled La chute is awarded the first prize in the World Press Photo in 2007 in the Arts and Entertainment category.
In 2011, he began working with people with disabilities who will give birth to Act series, published by Actes Sud and crowned the following year by the Niépce Prize.
Marie
Desplechin
After studying
Arts,
she became a journalist
before devoting himself
exclusively
to writing
novels and short stories
for adults and children
.
This is
Genevieve
Brisac
who encouraged
to engage
fully
in writing.
After
The
Backpack
Alphonse
and
Angèle
Rude
Saturday for
the
novice
writer
published
in 1995 a
collection of short stories
entitled
noticed
very
sensitive
too
.
Her first novel
for adults,
not for me,
has been a resounding
success.
In
her books, she
discusses
various topics
with humor
:
the
mother-daughter relationships
in
green
, the
imaginary world
in
Dragons
in 2003 or
the education of a
young girl
in
the nineteenth century
'Satin
grenadine
'.