Attracted by

Tanger

and aura

"

literary"

How

Nicolas

was also

upset by the

"plastic"

power of

"Dream

City

" by Paul

Bowles

…

Witness the

first excerpts

of this new

photographic work

where

pictorial themes

(nu

,

Still Life)

who

gradually

taxed

him

seem

convene

dreamlike

reminiscences

Orientalists

.

The presentation of this

ongoing series

–

in which the association

between images

embodies

a

vision

and

intimate

inside

Tanger –

is

also

reminiscent of

the famous "

Moroccan

triptych

"

Matisse

…
The

vinyl

45 rpm record

,
L'ange du bizarre / T(ange)r
, edited by

In-time

,

is available with

this item
Coproducer
Galerie 127, Marrakech et le label In-time
Collection
Hors Collection
Français
Relié couverture cartonnée
52 photos colors
72 pages
ISBN : 978-2-35046-337-7
Press review
Special limited edition of 20 signed and numbered copies, accompanied by an original print (14x20 cm) signed and numbered out of 5, to choose from four images by the cabinet.
Photo #1

Photo #2

Photo #3

Photo #4

Photo #5
Auteur, Musicien, Photographe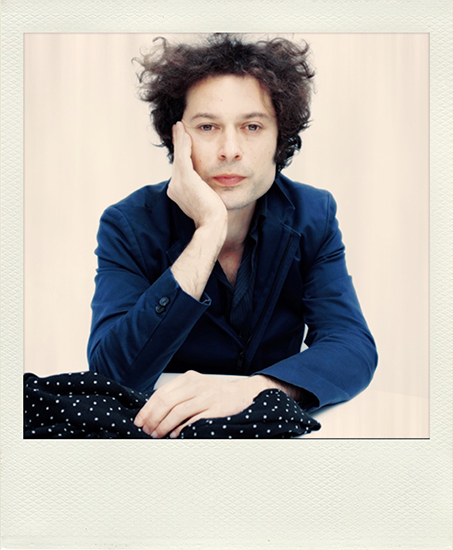 Photographer and author-composer, graduated from the National School of Fine Arts in Lyon (1997) and the National School of Decorative Arts in Paris (1999), Nicolas Comment publishes his first book of photographs in 2001, editions Filigranes: "The service" (text by André S. Labarthe), which will be followed by "Le point" in 2003 and "A ***" in 2004 (texts by Bernard Noël). In 2005, his meeting with Rodolphe Burger , then with Jacques Higelin and Yves Simon for whom he works on two albums ("Amor doloroso" and "Rumors", 2006), brings him closer to the world of music, until the producer Jean-Louis Pierot (Les Valentins / Daho) offers to accompany him in the realization of a personal musical project including the CD-book "Is this the East? (Berliner romanze), published in 2008, is the first part. In collaboration with Patrick Le Bescont, Nicolas Comment has also created the magazine "Saison" at Editions Filigranes and publishes with Anne-Lise Broyer a book on the city of Prague: "Fading" (2006). In 2010, it records a first album produced by Marc Collin (Nouvelle Vague), which will be hailed by the press: "We were God" (Kwaidan / Discograph). In 2012, following the publication of the book "The visit", he adapted to music, with Xavier Waechter , the latest collection of poems by the writer Bernard Lamarche-Vadel: "Retrouvailles", which is released on the jazz label Bonsaï Music. The same year, he exhibited at the VU 'gallery (Paris) a new series of images, the result of a photographic residence made in Mexico and published the book "Mexico City Waltz", at Filigranes. In 2014, parallel to the publication of the book "T (angel) r" (accompanied by an afterword by Gérard Manset and a single containing two unreleased songs), he exhibited from December 2014 to January 2015 at the gallery 127 (Marrakech) a new series of photographs carried out in Morocco. Her second solo album, "Rose Planet", (Kwaidan / Because) was released in CD version in 2015 and version 33 T in 2016 (Mediapop) while the collective exhibition "Being beauteous" (with A.-L. A. Da Cunha, Mr. Maurel de Maillé) continues his career in various French museums throughout 2015. In 2016, Nicolas Comment presents in Paris a large exhibition in duet with photographer Bernard Plossu, "Identification of a city ". Then he exhibited in Vichy, as part of the festival "Portrait (s)", a new series of images devoted to his companion, Milo, which is the subject of the publication of the book "Milo (Songbook)" published by Chic Medias.In 2017, he won the "Residence for photography" prize from the Fondation des Treilles, which allows him to create a new photographic and musical work in the footsteps of the rimbaudian poet Germain Nouveau during the year 2018. His "Journal" Countdown (1991-1999) ", consisting of his first black and white photographs and archival texts, will be published in April 2019.
Born in St. Cloud, Gerard Manset spends part of his childhood in the sixteenth arrondissement in Paris. A failing score bachelor prompted him to move to the visual arts; he joined the Decorative Arts in the early 60s. The photograph, drawing, painting, writing, music … all the passion. Meanwhile, he learned several instruments, often peripherally home and Phillips, in 1968, released by Pathé Marconi, his first 45 laps, one animal is ill.
After the release noted, in 1971, a concept album oratorio entitled The Death of Orion, he founded the Studio in Milan which will be performed musically a dozen albums. It is, also, by turns sound engineer, arranger, producer and songwriter for other artists. In the early years of the studio in Milan, he published the album There's a route that includes the title He travels alone. As the rave reviews that television and the public who request it will not because of his refusal to make the scene, to submit to the media habits. Only the studio work has an interest in his eyes "I find shameless sing before an audience." This success is disturbing for Manset who decides to undertake what he had hitherto refused to do: travel. Asia, Africa, Brazil and Central America, often taking as necessary to approach the languages ​​of the destinations in question, particularly Thai and Indonesian Inalco * in Paris. These numerous trips to inspire his albums, his books, but also his photographic work.
In 1996, Francis Cabrel, Alain Bashung initiate a tribute album: Route Manset which includes songs performed by Françoise Hardy, Jean-Louis Murat, Salif Keita, Cheb Mami, among others.
Between his own albums (19), Manset wrote to Juliette Greco (I was playing under a bench), Raphael (The memory of days and Being Rimbaud), William Sheller, Florent Pagny … In 2008 he was in the credits of the album Petrol blue Alain Bashung with three titles (like a lego, Venus, I'd kill the pianist) and that of Julien Clerc Where are leaving the aircraft (Brother, she n 'had not, a little fairy). In 2010, he participated in the fifth album by Raphael, Pacific 231 and 2011, released three new songs by Manset, sung and composed by Julian Cope in his album Crazy, maybe.
* Inalco: National Institute of Oriental Languages ​​and Civilizations