Le triboulet
Cinq rencontres avec André S. Labarthe
Le triboulet
Cinq rencontres avec André S. Labarthe
What is cinema? asked André Bazin. What film? wondered today Andrew S. Labarthe, filmmaker, throughout these five meetings collected at the time in various publications. What dance film? What is the paint film? What film the movie? What film literature? The assumptions made by ASL may be funny, serious, unpredictable or aggressive, they are in all cases, surprisingly fruitful. If bringing Hitchcock Edgar Poe is of great originality, Philippe Sollers and compare John Cassavetes is risky move by Carolyn Carlson at Ushio Amagatsu is the large gap, and to interact Bazin Artaud or Van Gogh and Mandela is the tour de force. It is in this open space that is flourishing and the thought of ASL. In this sense The Triboulet is a book of matches. A railway junction, like ASL.
Coproducer
Centre des arts d'Enghien-les-Bains
Collection
Hors Collection
17 color and black and white photos
104 pages
ISBN : 978-2-914381-69-7
André S. Labarthe began his career as a film critic in the 1950s he met André Bazin, who is seeking to join the writing Cahiers du cinema in 19561. He discovered cinema without the overwhelming passion for the seventh art of Jacques Rivette François Truffaut that are already part of the review. His critical eye will only decide André Bazin to integrate into the team.
Discreet and secret member of the New Wave, alongside the margin, Labarthe is a solitary mind constantly open to the world, freely associating cinema to psychoanalysis, surrealism, dance, literature, eroticism .
His own vision for many will actually contribute to critical positions of Cahiers. Like his colleagues, André S. Labarthe share the same admiration for some directors like Jean Renoir, Howard Hawks and John Ford. It also remains very attentive to emerging cinema and participates in the promotion of the New Wave and the new American directors independent1 (John Cassavetes, Shirley Clarke). The provisions in this regard will also bring to defend the young Italian cinema, sometimes against the advice of some of his colleagues.
In 1964, he began the series "Filmmakers of our time" he coproduced with Janine Bazin and he realized himself several épisodes1. This collection that spans over forty years consists of portraits of 52 minutes renowned filmmakers. The first episode, broadcast on the ORTF in 1964, is directed by Robert Valley and is dedicated to Luis André S. Labarthe Buñuel1 which is very committed and has done much to recognize in the criticism. The collection spreads through television, critical view of the Cahiers and further anchors his reading of cinematic history. […]
Anne-Lise Broyer questioned the relationship between photography and book artist. His series of images all take the fabric of a narrative of a text being read. In 2001, she published It maquis, in 2003 A story without a name, Fading in 2006 and 2007 amounting gray skies (seemed larger) in Watermarks. Meanwhile she makes books for children.
Auteur, Musicien, Photographe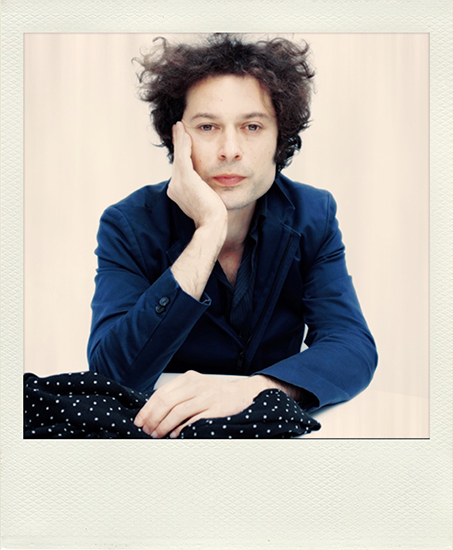 Photographer and author-composer, graduated from the National School of Fine Arts in Lyon (1997) and the National School of Decorative Arts in Paris (1999), Nicolas Comment publishes his first book of photographs in 2001, editions Filigranes: "The service" (text by André S. Labarthe), which will be followed by "Le point" in 2003 and "A ***" in 2004 (texts by Bernard Noël). In 2005, his meeting with Rodolphe Burger , then with Jacques Higelin and Yves Simon for whom he works on two albums ("Amor doloroso" and "Rumors", 2006), brings him closer to the world of music, until the producer Jean-Louis Pierot (Les Valentins / Daho) offers to accompany him in the realization of a personal musical project including the CD-book "Is this the East? (Berliner romanze), published in 2008, is the first part. In collaboration with Patrick Le Bescont, Nicolas Comment has also created the magazine "Saison" at Editions Filigranes and publishes with Anne-Lise Broyer a book on the city of Prague: "Fading" (2006). In 2010, it records a first album produced by Marc Collin (Nouvelle Vague), which will be hailed by the press: "We were God" (Kwaidan / Discograph). In 2012, following the publication of the book "The visit", he adapted to music, with Xavier Waechter , the latest collection of poems by the writer Bernard Lamarche-Vadel: "Retrouvailles", which is released on the jazz label Bonsaï Music. The same year, he exhibited at the VU 'gallery (Paris) a new series of images, the result of a photographic residence made in Mexico and published the book "Mexico City Waltz", at Filigranes. In 2014, parallel to the publication of the book "T (angel) r" (accompanied by an afterword by Gérard Manset and a single containing two unreleased songs), he exhibited from December 2014 to January 2015 at the gallery 127 (Marrakech) a new series of photographs carried out in Morocco. Her second solo album, "Rose Planet", (Kwaidan / Because) was released in CD version in 2015 and version 33 T in 2016 (Mediapop) while the collective exhibition "Being beauteous" (with A.-L. A. Da Cunha, Mr. Maurel de Maillé) continues his career in various French museums throughout 2015. In 2016, Nicolas Comment presents in Paris a large exhibition in duet with photographer Bernard Plossu, "Identification of a city ". Then he exhibited in Vichy, as part of the festival "Portrait (s)", a new series of images devoted to his companion, Milo, which is the subject of the publication of the book "Milo (Songbook)" published by Chic Medias.In 2017, he won the "Residence for photography" prize from the Fondation des Treilles, which allows him to create a new photographic and musical work in the footsteps of the rimbaudian poet Germain Nouveau during the year 2018. His "Journal" Countdown (1991-1999) ", consisting of his first black and white photographs and archival texts, will be published in April 2019.