"This series was born out of memories of the few summers I spent at summer camp as a teenager. I have always had over the holiday feel of live moments, rare and precious. The colony was a kind of parenthesis in the rest of my life. Nobody knew me, then I could "play the role that I wanted. I feel cut off from the rest of the world for two or three weeks. Time, suspended, and space, closed, took another dimension. Every day counts … "M.P.
In rereading his memory that Marion Poussier us involved in this complicated world of adolescence. It is moving away from the upheaval experienced by these youth, jostled, bringuebalés our societies. It proceeds by splitting into camps. It was his field of investigation. In this space empty it sets its view. Before it, the characters of their choice, moving silently in this scene where gestures whisper sweet tinted color. The evanescence of tender and melancholic moments evokes both the reflection of our societies and the mirror of our childhood memories. Yann Le Goff
Collection
Hors Collection
Relié couverture cartonnée
21 color photos
48 pages
ISBN : 978-2-35046-093-2
Press review
Edition limited to 30 numbered copies taken together with a photographic print (format 18 x 24 cm) signed by Marion Poussier.
* Choice possible between three photographs, each taken at 10 copies.
After your order you will receive a confirmation email asking you the frame number of your choice.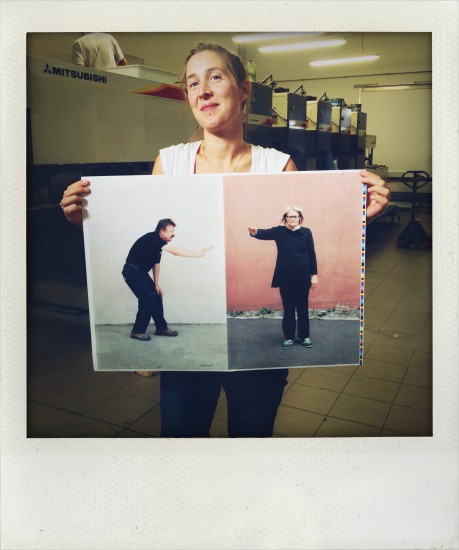 Marion Doussier was born in Rennes in 1980. She graduated from the National School of Superior Louis Light (2003). She received in 2006 the Lucien and Rodolf Hervé Prize for her series of photographs on adolescence. Entitled One summer, this series has been exposed during the international meetings of photography (Arles) and joined the Cartier Foundation collection for contemporary art as well as the National Fund for Contemporary Art. In 2010, Marion Doubier receives the price of the Academy of Fine Arts for his family project. It is represented by the Gallery of the Day Agnès b.
She published at Filigranes: IIs habit(ai)ent au 61 rue d'Avron, Un Eté, Famille and Corps de ballet.