Conducted between 1974

and 2012

, mostly

in France

or Europe

,

these images

satisfy

my desire to

meddle in the

moments

and places

a priori

no relation

with each

other

in a kind

of automatic writing

,

like the

surrealists.

The book begins with a quotation from Pascal Quignard: "The visible is not enough to understand what is seen. The interpreter is not visible in reference to the invisible. "
And that's exactly what it is: the photograph is often called something other than what is visible in the frame. The invisible, our imaginations, our memories, our desires, those of the author and those of the reader, disrupt this "real", interpret it, filter it to finally see something other than what was photographed.
This book proposal is a journey into a world to build, to invent, because you can not trust the photograph …
The real shifts under our eyes a strange world seems a little absurd: the horses spew clouds, a sea lion escaped from a child's pushchair, coming of Alice in Wonderland finds himself trapped in a strange museum natural history, an empty street sees a procession of sheep and beach huts move while trying to walkers strange funny stunts …
All that exists right here, and the photos are proof! …
Unless this is only imagined things, usually invisible
Unless either as poetry …

Bernard Descamps, May 2012
Collection
Hors Collection
Français
Relié couverture cartonnée et toilée
35 photos duotone
60 pages
ISBN : 978-2-35046-255-4
limited Edition
To make possible the publication of this book, "Right here," we suggest you subscribe to a print head limited edition accompanied by a signed and numbered original photograph (size 18 x 21 cm print - image 8 x 12 or 10 x 10 cm).
Led to 50 numbered copies accompanied by a photographic print * drawn and signed by Bernard Descamps.

* Choice possible between two photographs, each taken at 25 copies.
After your order you will receive a confirmation email asking you the frame number of your choice.
Photo #1

Photo #2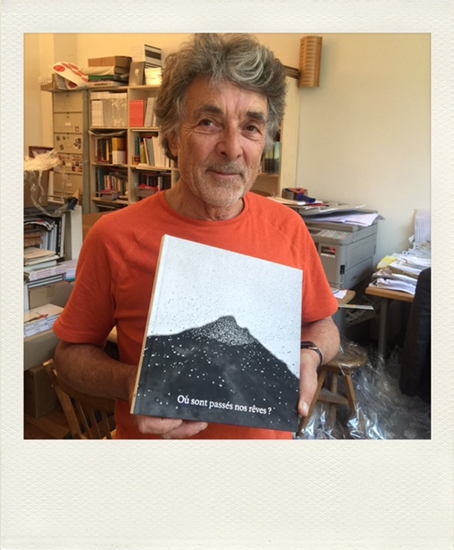 Born in Paris in 1947.
PhD in Biology, he became a photographer in the early 1970s.
He is now represented by the Camera Obscura Gallery and was one of the founding photographers of Agence VU in 1985. He works mainly on the choice of framing in the shot, in square format, going against Of the "academic" rules of composition. His main works are in black and white, notably on Africa. He captures those moments when reality is mingled with his imagination. He exhibited with André Kertesz (his "master"), at the Leverkusen Museum in 1976 … Publications at Filigranes editions: Autoportrait, Où sont passés nos rêves ?. Ici même, Quelques Afriques, Lady Land, Silences, Evening Land, Japon, Berbère, Le don du fleuve.