The new book by Bernard Descamps, entitled natura, in tribute to the first naturalistic trials of antiquity, is the result of a patient work, a long quest for images of nature. Not spectacular images from the end of the world, but merely touching images of the nature that is so close to us that we neglect so often.
The formal beauty of the skyline between sea and sky, or that of a snowy mountain, triangle of black and white, the vertical elegance of a hundred-year-old tree or that of a flight of cranes in the sky Lorraine.
Four chapters, black and white photographs, images made of rocks, rough or smooth barks, water, clouds, light and wind … an approach to emptiness and fullness, balances and silence.
Poetry to save us.
Collection
Hors Collection
Anglais/Français
Relié couverture cartonnée
73 photos duotone
144 pages
ISBN : 978-2-35046-485-5
Press review
Limited edition drawn with 80 numbered copies accompanied by a photographic print drawn and signed by Bernard Descamps.
Choice of four photographs, each drawn in 20 copies: silver prints 20 x 20 cm, on 24 x 24 cm baryta paper.
Photo #1

Photo #2

Photo #3

Photo #4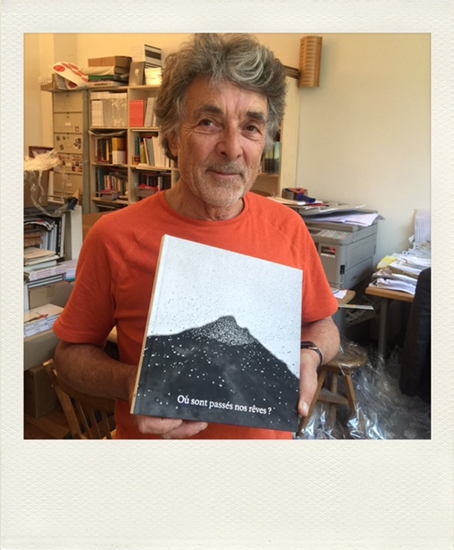 Born in Paris in 1947.
PhD in Biology, he became a photographer in the early 1970s.
He is now represented by the Camera Obscura Gallery and was one of the founding photographers of Agence VU in 1985. He works mainly on the choice of framing in the shot, in square format, going against Of the "academic" rules of composition. His main works are in black and white, notably on Africa. He captures those moments when reality is mingled with his imagination. He exhibited with André Kertesz (his "master"), at the Leverkusen Museum in 1976 … Publications at Filigranes editions: Autoportrait, Où sont passés nos rêves ?. Ici même, Quelques Afriques, Lady Land, Silences, Evening Land, Japon, Berbère, Le don du fleuve.
Maria Spiegel is Director of the "Situation Kunst" Foundation in Bochum, Germany.